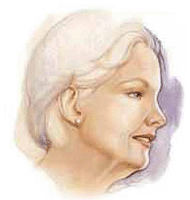 Nothing reveals the true age of a woman so obviously as her neck. With aging facial muscles and skin tissue begin to weaken. This causes wrinkles and sagging subcutaneous fat around the neck ("double chin" or "bulldog cheeks"). Weather conditions and weight loss too can contribute to an old looking saggy neck.
Neck lift is one the most efficient operations aiming to eliminate the signs of aging. It allows you to regain the look of a rejuvenated neck with expressive and beautiful contours, while eliminating the excess fat.
In some cases, neck lift can be performed in conjunction with liposuction, blepharoplasty, face lift and brow lift.
When done on its own, neck lift is performed though an incision in the lower part of the scalp, in order to completely conceal the postoperative scars.
Age: 35-70.
Anaesthesia: Local anaesthetic, combined with intravenous neuroleptoanalgesia; or general anaesthetic.
Duration: 2 - 2.5 hours.
Postoperative recovery:
The patient is able to go home with a special bandage few hours after surgery.
Must wear a special garment for 2 weeks.
Sutures are removed 10-12 days later.
Recovery and ability to return for work in 8-10 days.
Price: Pricing for this operation is determined during the consultation, based on the characteristics of one's skin aging, neck's soft tissue, the method of operation, or its possible combination with liposuction.
What is important to consider?
Need to quit smoking 2 months prior to the surgery.
Neck lift is a quite serious operation, as the zone of intervention is in the field of major vessels, nerves and muscles. It is therefore recommended that it must be carried out by a qualified plastic surgeon with extensive experience in the face and neck surgeries.
Questions & Answers:
Dear Katie,
I'd be glad to help you, as many foreign patients choose me for plastic surgery procedures, and thus, travel to Athens. To start with, please telephone me and we can talk about your case in more detail and I'll tell you my e-mail address so that you can forward your photos. If you have Skype, we can even hold a Skype consultation. Once I see you, I'll be able to determine the cost of the revision neck lift procedure that you require.
It is very likely that the overall cost of neck lift revision, including the cost of travel and accommodation, will work out to be cheaper than doing the said procedure in your country. But as I said, we have to talk these things through in more detail.
You did not fully describe what it is that you are not satisfied with. But any revision cosmetic surgery is recommended only one year after the original procedure.
Having a neck-lift at such an age is not recommended. However, if it worries you too much then it may be possible to smooth the outlines of the wrinkles with the use of laser or injections.