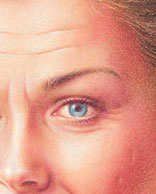 The desire to have a young face and body is a dream shared by most people. Freshly looking face projects self-confidence, even serves as a model for others to look up to. However, not everyone wishing to rejuvenate, can undergo a plastic surgery (for health reasons, age and so forth).
Nowadays there is a wide range of facial injections - a list that grows every year, some of which can temporarily replace the effects of a plastic surgery. The injections are carried out on the body and face with tried-and-tested techniques. These injections are approved, tried-and-tested and are widely used throughout Europe and around the world, and provide satisfying results for patients.
Botox injections are carried out predominantly in cases of minor wrinkles and aging skin.
Age: 20-75.
Anaesthesia: local anaesthetic or with the use of anaesthetic Emla cream.
Duration: 10-30 minutes.
Recovery: The patient is able to go home after 20 minutes following the procedure, and is able to return for work on the same day.
Results will become visible 2-10 days later.
Duration of the results: 3-8 months.
Price: the cost of the procedure is determined during the consultation. The plastic surgeon will study the features of the skin, the signs of aging, the nature of wrinkles, contours and facial expressions. Based on these the doctor will determine the scope of the procedure, the quantity that needs to be injected and the individually tailored treatment.
What is important to consider?
In recent years injection treatments have become quite widespread, and many clinics and individuals who are not qualified plastic surgeons carry out these injections. In order to minimise the risk of complications and to obtain the right type of treatment suitable for you, it is highly advisable that a qualified plastic surgeon conducts these procedures.
The choice of injection should be identified by the plastic surgeon for each patient individually!
Despite carrying out these procedures by an experienced surgeon, sometimes side effects like allergy, temporary ptosis of eyelids and asymmetry, do occur. Therefore, the individual who administers these injections must have the necessary knowledge and skills to prevent and swiftly eliminate them at an early stage.
It is desirable that the same surgeon who carried out the initial injection, also conducts the subsequent ones. This will help to better control the result of the procedure and to determine the dosage of the subsequent injections more accurately. This will also allow for a more individually tailored approach.
Botox - Reviews from former patients