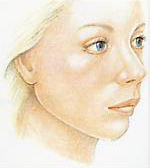 Genioplasy is a type of plastic surgery aimed at correcting the appearance of person's chin. It is performed in order to create the right proportions of the face both for aesthetic reasons, as well as in cases of congenital pathology, or posttraumatic deformities or cancer tumours. Genioplasty can take the form of chin rounding through osteotomy, chin height reduction, or chin augmentation using implants.
This procedure is performed by oral and maxillofacial surgeons, or plastic surgeons who have extensive knowledge and experience of maxillofacial techniques.
Some of the causes for this surgery include "long" or "short" face, the sloping chin, its asymmetry, as well as the patient's desire to improve the aesthetic contours and proportions of the face.
In case of the "short" face syndrome, the operation is performed using autografts (using own bone tissue) or silicone implants. The correction of the "long" face syndrome, on the other hand, involves the removal of excess bone of the mandible.
The incision is carried out on the buccal-mucosa of the lower lip.
Genioplasty is a subvariant of correctional operations on the face, and is sometimes carried in conjunction with the contourplasty of the orbital, malar and frontal areas.
Age: 18-65
Anaesthesia: general anaesthetic.
Duration: 45 minutes - 1.5 hours.
Postoperative recovery:
The patient stays in the hospital overnight and goes home with a special bandage.
Must wear a special bandage for 2-3 weeks
Postoperative sutures dissolve within 1-2 weeks
Ability to return for work 7 - 8 days after surgery
Price: The pricing for this operation is specified during the consultation, after the examination of patient's facial proportions, anatomy, studying face X-rays (front and profile), identifying the size and shape of the implants to restore the correct proportions of the face, and proposing an optimal method of genioplasty – all of which varies from patient to patient.
What is important to consider?
For successful genioplasty, it is recommended that your plastic surgeon has extensive experience in Maxillo-Facial Surgery and intraoral operations.
Questions & Answers:
It is well known that the contourplasty of the face and body with the use of own fat leads to fat resorption after 6 months. The patient must have been warned about this prior to the procedure. In today's plastic surgery contourplasty is carried out using silicone implants for the face and body. But the patient must also be warned about possible side effects and complications (infection, encapsulation, rejection of the silicone body). Contoured silicone implants, supplied by the well-established international firms, with a long approbation and high quality, may remain in the body for many years and throughout lifetime.
Reoperation using silicone implants after resorption of fat is possible.